Turquoise Necklace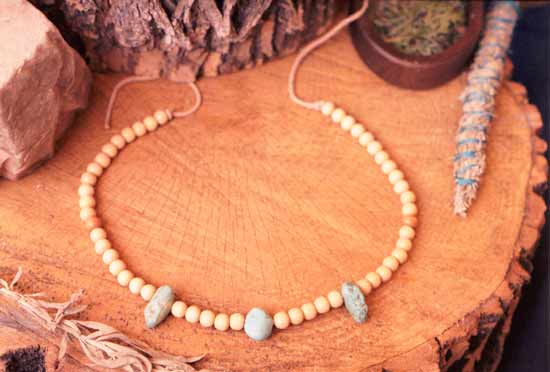 $288.00
cmw415
FOREST NECKLACE by The Coyote
Materials:
Leather String
Round Wood Beads
2 Oval Turquoise Stones
1 Large Turquoise Center Stone
Simple wooden beads are highlighted by 3 large turquoise stones and dark wood bead side accents.
I have always appreciated and enjoyed the feeling of wood. A wood bed is better than a metal bed. A wood sword is more fun to play energy games with than a metal sword.
I didn't road test any of my wood necklaces very long. The wood beads have a varnish coating on them, but with the holes drilled through them, they are not waterproof.
I'm not sure who ended up with this necklace, but as you can see it has some really nice big matched American turquoise. I think that girls liked the wood beads more than the men, so maybe I should make a more feminine version. The wood has a calming effect, whereas the bone beads to me are a neutral but white power line.
Let me know how it works, and wears, and when it wears out -- Send it back and I'll restring it, replacing worn out beads, but keeping your main turquoise beads intact on your next necklace. I know how attached we can get to certain stones.