Turquoise Necklace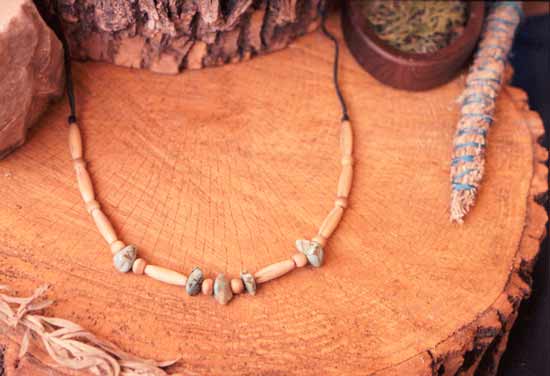 $288.00
cmw401
SHAMAN NECKLACE by The Coyote
Materials:
Leather String
3 Medium Turquoise Stones
Tubular Bone Beads
Round Bone Beads
My most popular design during the 90s. Girls and guys love this one.
I made several of these and had one for myself.
American turquoise with Indian bone bead on a THICK LEATHER STRING.
I designed this for myself, as a singer. The three turquoise stones create a soothing and protective energy for the voice. The picture above is MY NECKLACE that I wore for many months. You can see the discoloration of the beads and how they have started to crack from me wearing all day long, to Kung Fu classes, to nightclub gigs, and in the shower. The leather strands are darkened also from extensive use. This isi one of my 'retired necklaces,' but don't think I boxed it up to auctioned.
This is a very SPIRITUAL NECKLACE.