Spiritual Necklace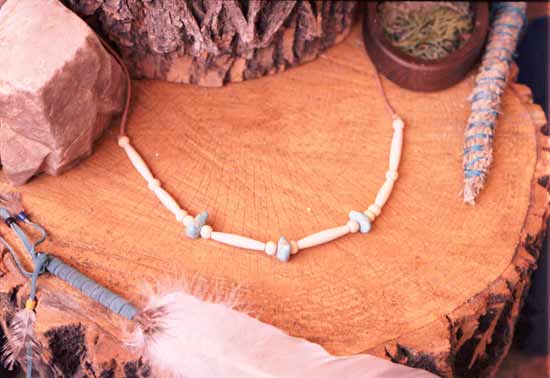 $288.00
cmw401
WHITE DEER NECKLACE by The Coyote
Materials:
Leather String: THICK or THIN
3 Medium Turquoise Stones,
Pipe Bone,
Round Bone
A simple powerful design.
I made one of these for a Kung Fu school brother with a large center turquoise piece. It's awesome.
If you tell me about yourself, explain your interests or what you'll be doing when you wear your necklace, or want you to improve or enhance about yourself -- I will be better able to choose stones JUST FOR YOU.
Send a picture of yourself. That might help also.
At any rate, I make every necklace so that I want to wear it. My Lakota Chief told me that, "the gift you want most is the best give to give."
So these necklaces are actually mine, and I'm selling them to you. As I make a new one, I'll make it so that I want to wear it, then I'll send it to you.