New In Stock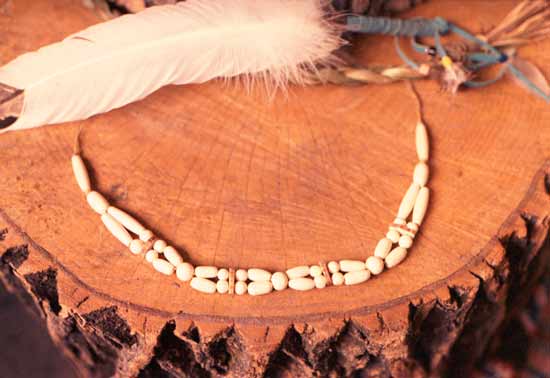 $288.00
cmw418
LOVE ELK CHOKER by The Coyote
Materials:
Leather String - THIN
Round Bone Beads
Tubular Bone Beads
Elk Antler Slices
A two layer choker of bones and elk antler. Designed as a courtship necklace for men.
The traditional way of making this necklace is with leather spacers instead of the elk antler spacers.
Although I made this with a masculine attitude, I think it came out more feminine than I expected due to the 'star-like' pattern of the beads.
I experimented with these choker designs and found myself using waxed synthetic thread to imitate some of the designs I saw and liked by other Native American artists. The synthetic string made it easier to string and was more durable, but I always prefer leather if possible.
When I did experiment with the synthetic threads, I felt a little guilty and also realized that my necklaces wouldn't break as easily -- which concerned me. I want the necklace to break before you ever get choked.
So necklaces, like this one would still have the leather strings at least on the ends for tying the necklace square knot behind your neck.
Let me know how it works, and wears, and when it wears out -- Send it back and I'll restring it, replacing worn out beads, but keeping your main turquoise beads intact on your next necklace. I know how attached we can get to certain stones.