Coyote's Story of Life in Utah = LEVEL 1 = Peace Of Mind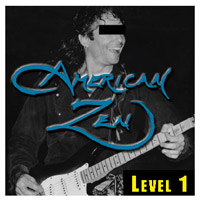 Lured by a blonde girl, Coyote discovers that Mormons don't like Buddhists. With his foot long pony tail and Kung Fu clothes on, Coyote heads to Shaolin Chi Mantis classes.
With his daughter in one hand, swords on his belt and back, and staff or spear in the other hand, Salt Lake City, was changed forever.
His performances in the nightclubs started with a band he put together, but when he tried to get them to play the song, "God Will Protect," the Church of Latter Day Saints intervened and told the drummer and guitarist to quit American Zen. The bass player was Jewish, and when he went home to New York for Hannukah--he never came back.