Books by Buddha Zhen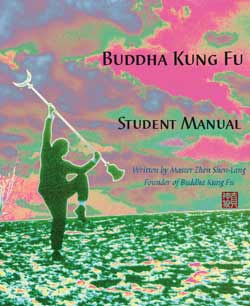 When I realized that Kung Fu was my business and I was now the founder of a Kung Fu school, I organized my curriculums.
Since my favorite part of the KUNG FU tv series was that little kick fight each episode with cool Kung Fu moves PLUS the Buddhist wisdoms that were taught to the young novice...I hungered for enlightenment.
Now was my chance to create a Kung Fu school that be a blend of both Buddhism and kicking.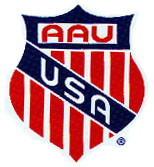 For the first decade, the AAU Amateur Athletic Union, was a sponsor/partner of the Shaolin Chi Mantis and Tai Chi Youth schools in Utah. The low cost membership provided insurance for our schools which I taught in schools, churches, parks, colleges, and amusement parks. Since moving to California, I have been teaching out of the YMCAs and as contracted teacher for the L.A.Parks & Recreation Department...so without the need for insurance and tournament coverage--I regret that our California schools didn't associate with AAU between 1999 and 2009.
The Kung Fu classes I took were excellent for training me in the physical half of Shaolin Kung Fu, but Shaolin Kung Fu is also about Buddhism. Shaolin Buddhism is the ORIGINAL ZEN BUDDHISM, or "Chan" Buddhism to be more accurate. The Japanese renamed it "Zen."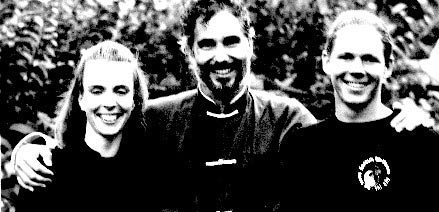 These series of books were written by me between 1980 and 1994. I collected "wisdoms" in notebooks. Inside the notebooks I arranged them by categories: Love, Peace, God, Family... Although I didn't spend much time consulting my collected wisdoms, I was inspired many times in later years by sharing them with others. One notebook, my COYOTE SPIRIT BOOK, was 3" thick and well organized so I could quickly insert my acquired knowledge into the notebook. The COYOTE SPIRIT BOOK was renamed, ZEN SPIRIT BOOK, and now is a required book of Shaolin Chi Mantis and Buddha Kung Fu schools.
Tai Chi Program

Shaolin Kung Fu Program

Praying Mantis Program
Each of the above programs has a book for each Shaolin Chi Mantis and Buddha Kung Fu Belt Rank Level:
Beginner Level

Intermediate Level

Advanced Level

Disciple Level

Shifu Level
These books interplay with each other based upon the Kung Fu being taught that particular semester. A student might be a Tai Chi Intermediate, a Shaolin Kung Fu Beginner, at the same time. The Praying Mantis Program doesn't even start for a few more semesters.
I've repackaged the traditional Buddhism with the Traditional Shaolin Kung Fu combined with my own Zen and a collection of spiritualities I gained while studying all the religions in the world. Although I was raised a Catholic, when I realized what Buddhism was -- I realized I was a Buddhist.
I am reediting and rereleasing all these Kung Fu and Tai Chi books.
Now available from Shaolin Communications: