Turquoise Necklaces by The Coyote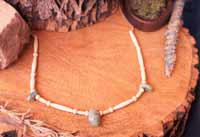 I designed these necklaces for myself, starting in the 1970s.
I don't use any metal on the necklaces. You tie a knot behind your head.
Simple necklaces made so I could feel my best and work my hardest.
Different stones have different energies. I chose other materials because they are "neutral" like the bone beads and the leather strings.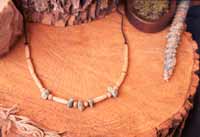 I'm sure you'll enjoy any of my necklaces, but try to select something BEST SUITED for you or what you want to change...
That's a tough prescription. I enjoy CUSTOM DESIGNING a necklace just for you... maybe!
Coyote Mysticwear
Check out these webpages for a breakdown of my own personal styles of necklaces: