"Cinco de Mayo" tells the stories of Coyote's Spanish heritage and imagination. The song takes twists and turns, falls down, then gets back up and runs for the finish line. Balboa, Cortez, and the Catholic San Diego Mission de Alcala are interwomen in this Spanish classical song by Richard Del Connor, The Hippy Coyote of American Zen.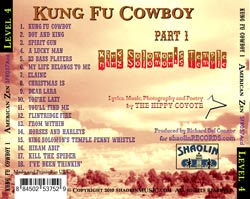 The "Station Fire" of August 2009 burned down the mountain towards Coyote's home. It burned for over a week. They were unable to stop it. Helicopters and airplanes dumped water on it...Firemen fought valiantly. Homes burned. Many homes.
All day the fire and smoke billowed like a burning siege. It was incredible. The fire would burn forward, retreat in glowing embers then return to advance further. At night the flames looked like lava flowing down the volcano sides
Coyote's home studio windows faced the flames. Day and night Coyote recorded this song. It took two weeks to record the fingersnaps, tambourines, and handclaps. No duplicating. He recorded them one at a time through the entire song. Acoustic guitars ebbed and flowed with the rising and lowering flames.
The battle of the mountain became the battle of this song. Coyote kept this song natural. Often imagining the flamenco dancers and twirling skirts, black hair spinning, and the spanish musicians sitting around the cantina performing. 100% natural music. Not even a bass guitar. Just fingers, hands and tambourines. This is Coyote's ode to his childhood favorite Spanish classical music songs such as "Malaguena."
During this recording, Coyote was also the Organist of Freemason Lodge 513, the "Panamericana Lodge" of the California Free & Accepted Masons. Instead of playing organ for the Mason Lodge, as Wolfgang Mozart once did, Coyote performed flute and acoustic guitar during the Masonic rituals and ceremonies. Coincidentally, Panamericana Lodge is a Spanish speaking lodge and they enjoyed the performances of this song, "Cinco de Mayo," and "Flintridge Fire," as Coyote prepared to record it on his American Zen album.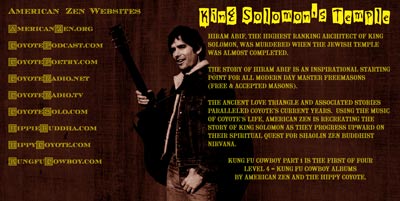 Richard Del Connor became a 3rd Degree Master Mason in February, 2009.